ABOUT OUR COMPANY
Established in 1992, PT. TelView Technology is one of Indonesia's first and leading electronic security solution providers, specializing in CCTV, Alarm, and Access Control Systems. Aside from providing only high-quality tech-forward products, the company is most of all notable in its commitment to service, well-managed distribution, as well as stock variety and availability. With professionalism and integrity, PT. TelView Technology aims to be a one-stop electronic security solution provider that forges long-term partnership with its customers.
OUR VISION
Built upon character, we aim to be a world-class company that plays the lead role in building a safer Indonesia.
OUR MISSION
To help millions who desire a safer world, by providing quality products, services and cost-effective integrated security solutions with outstanding professionalism and integrity.
OUR CORE VALUES
Discipline
Integrity
Continuous Learning
Strive for Excellence
Hard Work
WHY CHOOSE US?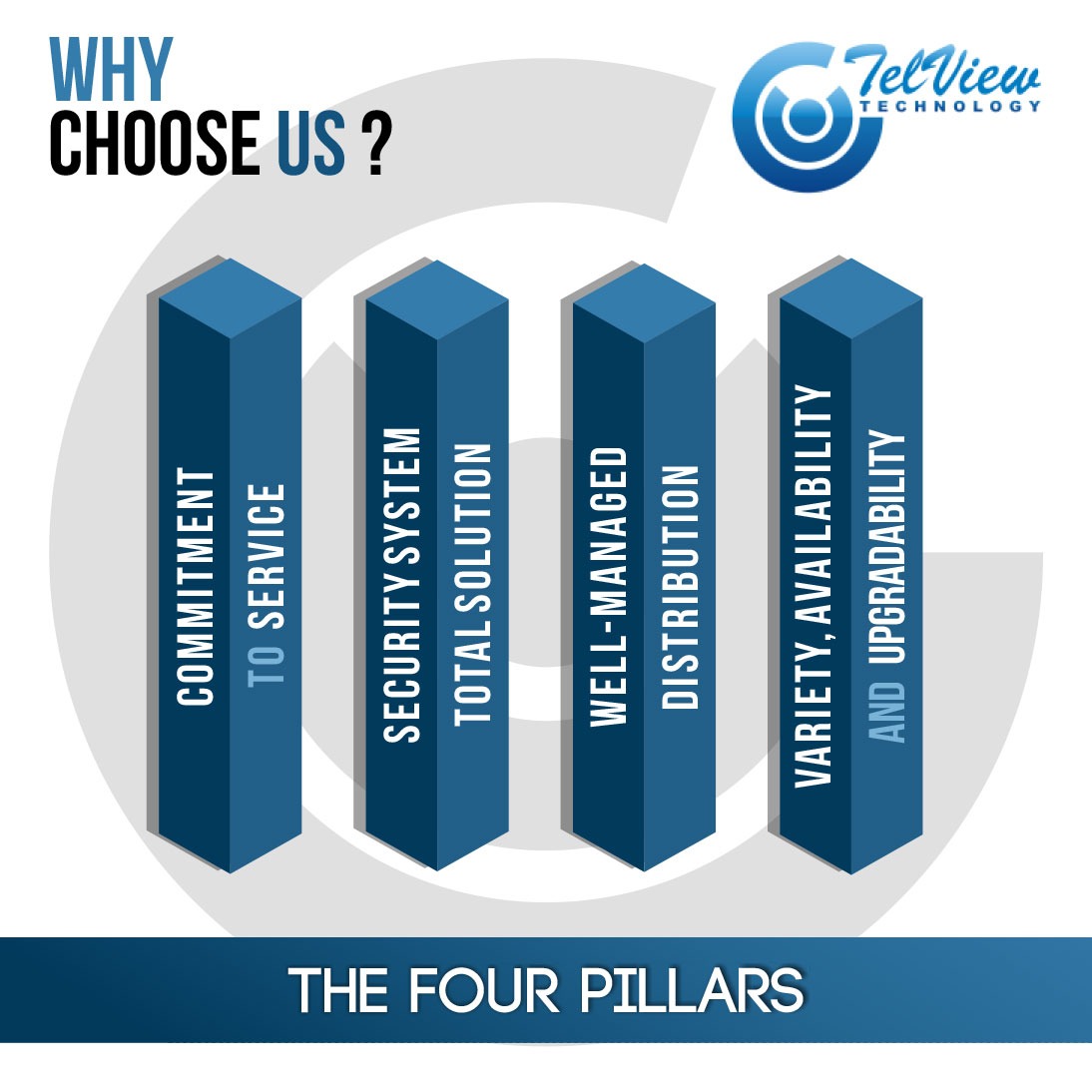 COMMITMENT TO SERVICE
24/7 technical support & customer service departments
Product training for customers
Comprehensive 1-year guarantee
5-year guaranteed availability of spare parts
Trade-in program for customers seeking to exchange their electronics for newer ones
SECURITY SYSTEM TOTAL SOLUTION
Comprehensive custom-made solutions from beginning to end
Integrated system design - Consultation, Planning, Installation, Training, Implementation and Maintenance
Optimum price, product quality and services
WELL-MANAGED DISTRIBUTION
Country-wide distribution of professional technical teams and branch offices
Accessibility and reliability of our after-sales services
Open and uniform prices all throughout Indonesia
Easy price comparison for faster decision-making
VARIETY, AVAILABILITY AND UPGRADABILITY
Widest range of security products in the country, suitable for new and older systems alike
Ready-stock items of various types for almost all applications (From houses and industries to critical infrastructures—such as airports, harbors, mining and military sites)
With excellent service, well-distributed products, and open and competitive prices, we help to alleviate customers' worries and save their time on decision-making. We do not only sell products; we provide solutions especially tailored for you. We are not just box sellers; we are your long-term consultant and partner for your security needs.